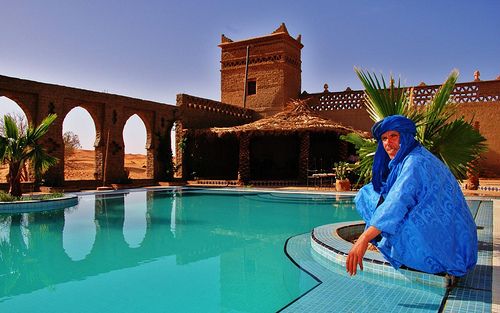 Morocco Vacation Spots are a mix; it's full of Roman ruins and World Heritage sites. It's got thousands of miles of coastline along the Atlantic and Mediterranean. The High Atlas Mountains are a wild swath of rugged adventure land; the Berbers who are the indigenous people of North Africa have lived in those mountains for 10,000 years. And of course, there's the mystical Sahara Desert… the no-mans realm of nomads and spice traders.
Morocco Ancient Imperial Cities
The Medinas are the historic heart of each city in Morocco: part residential area, part shopping center, a part food market where you'll find twisting and turning streets with shops, restaurants, markets, and homes all line the streets in buildings close together. Some of the amazing Medinas in Morocco are I Marrakech and in Fez. It is highly recommended to explore the Medinas with a certified guide and not on your own to not get lost for safety from one end, and on the other hand, you will get to visit the ancient cities' hidden paths.

Morocco has 4 imperial cities, Marrakech, Rabat, Fez, and Meknes. You will be able to include them all when Visiting Morocco on any of our Morocco Tours, but there is no need to spend the night in all of them if you do not have enough time and wish to dedicate some nights to other exotic parts of Morocco, 2 nights in Fez and 2 in Marrakech would do, at the same time, you can do Rabat and Meknes on a day trip while traveling between destinations.


Fez is an ancient center of knowledge and spirituality. It's well over a thousand years old and has the "largest car-free zone" in any city in the world due to its narrow cobbled streets. Your competition is donkey carts (watch your step!) and hawkers of cookies and sweets.

Marrakesh is an ancient desert oasis in the middle of the country, nestled up against the High Atlas Mountains. Using Marrakesh as a base, you can explore the Berber villages up high in the mountains, or take a day trip to Essaouira on the coast, or spend your days wandering the ancient market, called a Souk, to find your perfect souvenirs.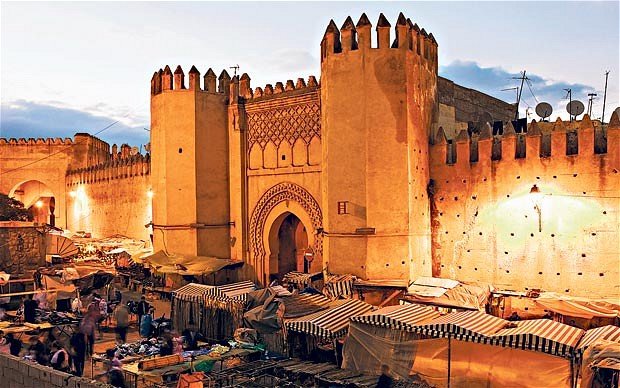 The High Atlas Mountains & Berbers in Morocco
The rugged and beautiful Atlas Mountains stretch over 1,500 miles, and rises in the west at the Atlantic Ocean, and stretches in an eastern direction to the Moroccan-Algerian border. At the Atlantic and to the southwest the range drops abruptly and makes an impressive transition to the coast and the Anti-Atlas range. When you are in Marrakech, you can see them as a giant postcard in the background. You will also travel through them when you are taking a Morocco Tour and including Marrakech, Desert, and Fez.

The range includes Mount Toubkal, which at 4,167 m (2.589 mi; 13,671 ft) is the highest in Morocco / North Africa and the second-highest in Africa after Kilimanjaro. The High-Atlas Mountains are inhabited by Berbers (Native Moroccans), who live from agriculture and pastoralism in the valleys. Some of the best Berber villages are located at the Ourika Valley, Imlil, and Ouirgane Valley near Marrakech. That is something that you would want to include in your Morocco Private Tour when Exploring the country.
Dades & Torda Gorges
Both Dades and Todra Gorges are most recognized in the world and have become very popular with travelers looking for the best views, hiking the canyons, and are great for Climbers. The hike could be challenging but if you're looking for something truly different and outdoorsy in Morocco, don't miss out on this even for a drive for the breathtaking views. The Dades and Todra Gorges are often called " The Grand Canyons of Morocco".
Volubilis
A world heritage site, the southernmost settlement during Roman times, Volubilis is one of the best-preserved (and least frequented) such ruins in the world. I found it empty of tourists, not built up, and open in a way that really lets you get up close and see the structures without being behind ten feet of barriers and jostled by crowds. Most of the city is still unexcavated so the site has a very raw feel to it. It's a lovely day trip from or on the way to Meknes and Fez.
Hassan II Mosque
Hassan II Mosque is located in Casablanca. It took thousands of Moroccan artists a total of five years to build this detailed architectural masterpiece. It is big enough for 105,000 worshipers, making it one of the largest mosques in the world! I was awed. Most of the travelers do some of the Casablanca highlights including a visit to Hassan II Mosque then move on to the next destination. Nice to spend a night in Casablanca only if you had a long flight to rest for a day on your arrival, or if you happen to have a very early flight out of Casablanca.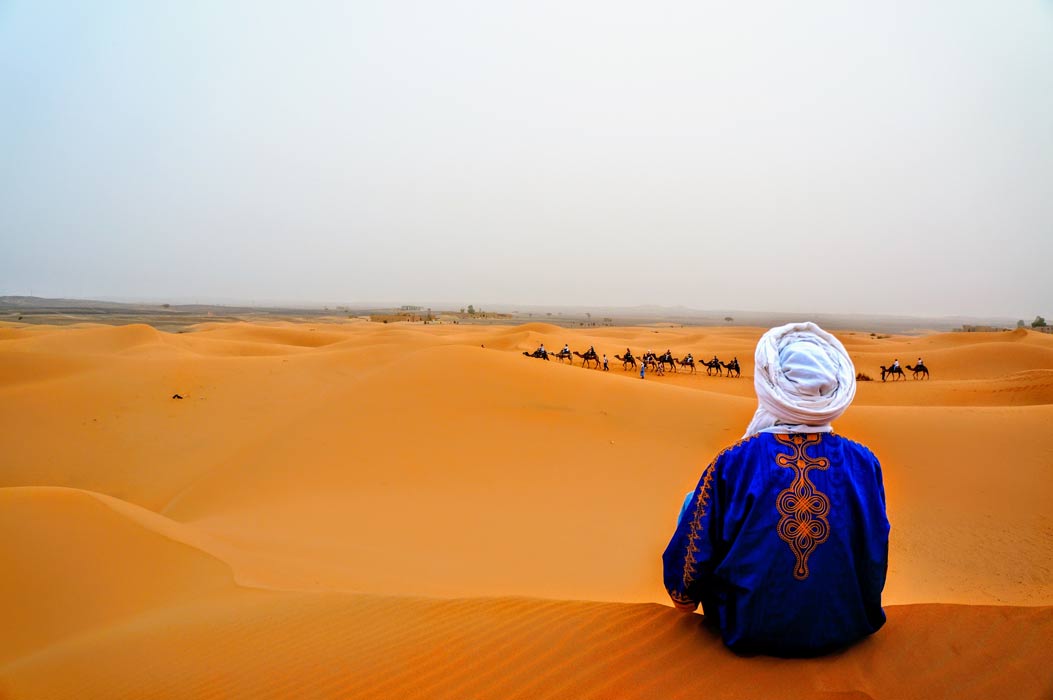 Sahara Sand Dunes
The magnificent Road of 1000 kasbahs, with palm groves and ruins from historic Saharan empires – a favorite set choice of Hollywood producers-leads us to Merzouga: the literal end of the road. On routes of Caravan traders, you travel to Bedouin bedding under the stars, nestled with the largest desert on earth when including the Sahara Desert Morocco Tour to your Holiday Destinations Morocco. capture the grandeur of the Sahara, textured earthen fortresses, and stylish Andalusian gardens with your lens. Offering the unique chance to meet with local photographers and capture landscapes that set Star Wars, Laurence of Arabia, The Last Temptation of Chris, and Gladiator, this tour leads through the many layers of Moroccan civilization, to match your level of experience with inspiration, serenity, and wealth of material.
The charming Essaouira
The 60's music legends Jimmy Hendrix and the Rolling Stones were drawn to Essaouira's idyllic charm, which continues today to lure musicians and artists alike to the sparkling whitewashed fishing village trimmed with the brilliant azure of its skies. A former Portuguese settlement in the 18th century, its stone ramparts overlook an emerald sea where dolphins sometimes frolic near the fringe of the silvery beach, and camels ferry passengers across fine sand. Dream on the beach, stroll through serene squares, browse artisan shops or the fish market, bursting with a plethora of fruit of the sea to be grilled to a succulent finish before your eyes. Top it your repast with the national drink of Moroccan mint tea and savor delectable French pastries at one of Essaouira's many charming cafes.
Jewish Morocco
In all our private tours to Morocco, you can explore Morocco's world-famous Imperial Cities and Ourika (High Atlas Mountains) Berber Jewish Villages, Sahara Desert Morocco Trip, the charming Jewish city of Essaouira, including the Jewish economic Capital of Morocco, Casablanca, as well as all Morocco's hidden paths.
Agadir
Agadir, a city along Morocco's southern Atlantic coast, in the foothills of the Anti-Atlas Mountains, is the capital of Agadir-Ida Ou Tanane province. A resort destination, it's known for its golf courses, wide crescent beach, and seaside promenade lined with cafes, restaurants, and bars. Agadir is often called the Miami of Morocco. If you were a Beach lover and have the time to spare, you may want to add a couple of days to your Morocco Tour.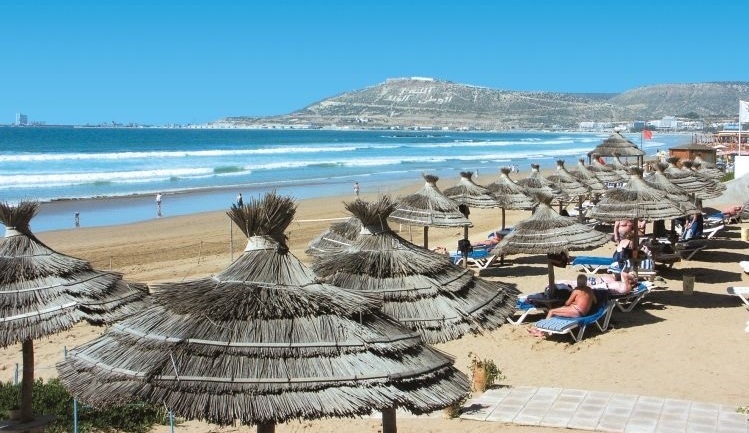 The Blue City
In the North of the country, nestled in the Rif mountains, and a short trip from Tangier is the small picturesque town of Chefchaouen. Founded in 1492 by Moorish exiles from Spain, the town is decorated in a mixture of whitewash and every shade of blue, from pastel sky tones to deep indigos. The effect is dreamlike, making this an extremely romantic place for a couple of days.
Tangier
This major city in northern Morocco is located on the North African coast at the western entrance to the Strait of Gibraltar. The history of Tangiers is very rich, due to the historical presence of many civilizations and cultures. Almost 100 years ago, Tangier was considered as having international status by foreign colonial powers and became a destination for many European and American diplomats, businessmen, writers, and spies. Today it's a hip must-see city but only if you have plenty of time to spend in Morocco or if you were coming from Spain to Morocco through Tangier, otherwise, it will be o to skip.
Morocco Culinary Journey
Traditional Moroccan food is a blend of Berber, Arabic, Turkish, Middle Eastern, and French cuisine. Many riads (Morocco Boutique Style Hotels) offer cooking classes in the big cities like Marrakesh and Fez. But what we do for our clients is to set them up on Morocco Culinary experience with one of Our Moroccan Chef at her house with her Moroccan family to have a taste of the Moroccan hospitality. Some of the famous dishes are Moroccan Couscous with 7 vegetables, Chicken with preserved lemon and olives, Lamb or Beef Tagine with dry prunes and roasted almonds, and the famous Chicken Pastilla.
Golfing
There are a total of 20 golf courses in Morocco many of which have been designed by well-known names in golf such as Jack Nicklaus, Robert Trent Jones, Colin Montgomerie, and Kyle Phillips. The best of them are located in Agadir, Rabat, Marrakech and Eljadida. If you happen to be a Golfer or you enjoy golfing, we will be more than happy to include a day or 2 of golfing in your Morocco Holidays Package.
Contact us or
Call / WhatsApp our New York Office at 212-925-6151
Email: Journey@MoroccoVacation.net