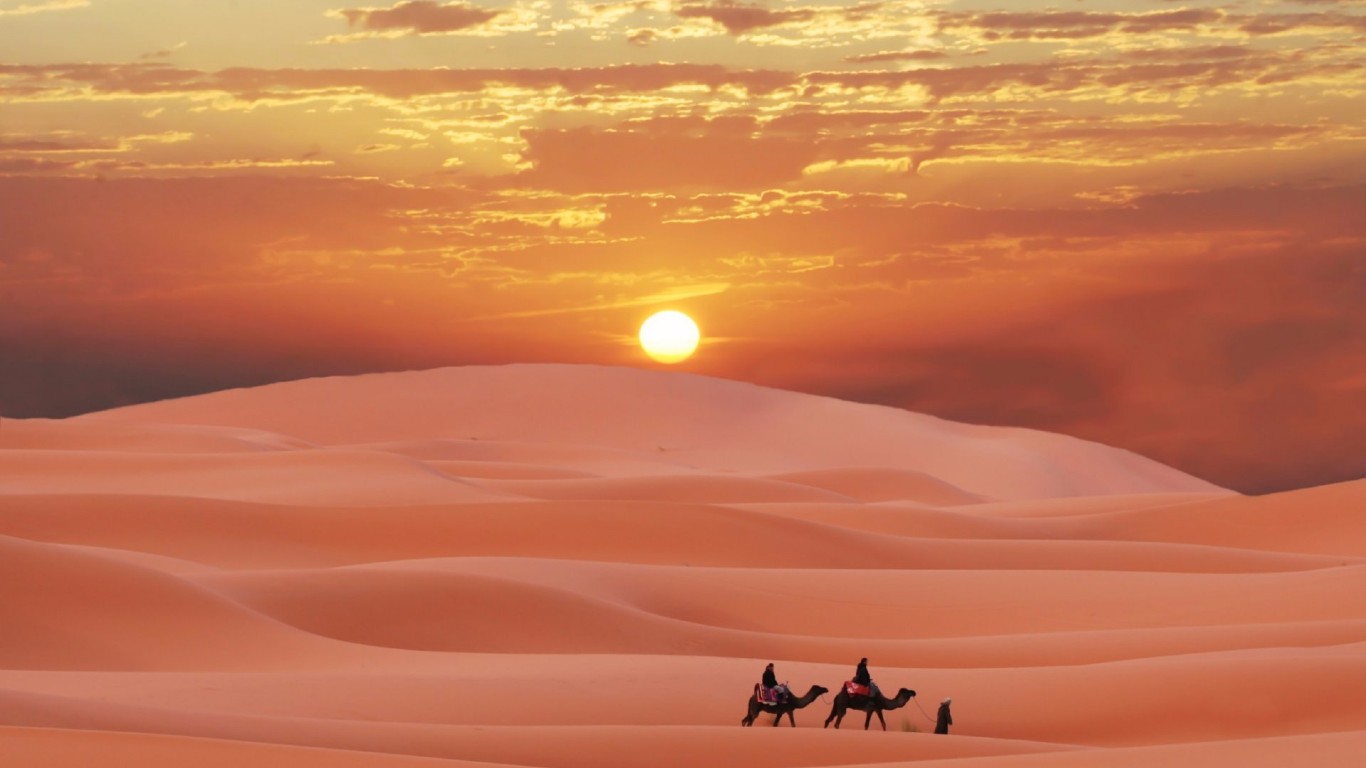 Our Sahara Desert Morocco Tour includes Culture Cuisine Photography and Much More. In these private tours to Morocco, you'll explore Morocco's world-famous Imperial Cities, Ourika Valley (High Atlas Mountains) Berber Jewish Villages, the mystical Sahara Desert with an overnight stay at the best Merzouga Luxury Desert Camp and all Morocco's hidden paths. The charming city of Essaouira is optional. This is a Morocco Holiday all Inclusive with the exception of a few meals to venture on your own. We also allow you to book your own airfare so you can use your air miles for free tickets, etc.
10 Days / 9 Nights


Price based on 3* accommodation
US$2000 per person based on double occupancy
US$450 per person extra for a single occupancy

Price based on 3* & 4* accommodation Combo
US$2350 per person based on double occupancy
US$650 per person extra for a single occupancy

Price based on 4* & 5* accommodation Combo
US$2890 per person based on double occupancy
US$1050 per person extra for a single occupancy

Note
• Minimum of 2 people to operate this trip
• Select your own travel dates
• Kids from 3 to 11 years old are 50% off
• Kids 12 & up same price as adults

2 people with private large car and English-speaking guide.
3 people or more with a private luxury minivan and English-speaking guide.
ITINERARY
After your arrival to Casablanca, you will be escorted to your Moroccan journey by a drive to the charming blue city of Chefchaouen.
Day 1: Casablanca – Chefchaouen
After your arrival to Casablanca, you will be escorted to start your Moroccan journey to the charming town of Chefchaouen for an afternoon to relax and enjoy. Dinner and overnight at your charming riad in Chefchaouen.
Meals Included: Dinner

Day 2: Chefchaouen
In the North of the country, nestled in the Rif mountains, and a short trip from Tangier is the small picturesque town of Chefchaouen. Founded in 1492 by Moorish exiles from Spain, the town is decorated in a mixture of whitewash and every shade of blue, from pastel sky tones to deep indigos. The effect is dreamlike, making this an extremely romantic place for a couple of days. Dinner in the ancient city on your own. Overnight & breakfast at your charming riad in Chefchaouen.
Meals Included: Breakfast
Day 3: Volubilis / Meknes – Fez
A journey back thousands of years and explore the ancient Roman ruins of Volubilis sprawled over a wildflower-dotted hillside, where a magnificent triumphal arch presides over the awesome remains of palaces and mansions, Roman baths and basilicas, and stunning mosaics. After, You travel past centuries-old olive groves and vineyards we near Meknes to enjoy for the afternoon, the Ismalian capital, famous for its 25-mile-long walls – and, not to mention excellent wine. Heading to port Bab El Mansour and Bab El Khamis, your tour leader can assist you and take you to any place you wish to visit in Menes. Dinner and overnight at your charming riad in the ancient city of Fez.
Meals: Breakfast & Dinner.
Day 4: Fez
Fez is the holiest city in the Islamic world after Mecca and Medina. This enchanting city has been a seat of government, philosophy, medicine, culture, and religion. Fez, the best surviving example of an ancient Arab city, is comprised of the "new" city, established in the 12th century, and the 2,000-year-old medina.

In the cobbled alleyways, donkeys and mules laden with goods still trawl alongside buyers through the ancient market, itself a fascinating maze of lanes, blind alleys, and bustling souks assaulting the senses with spices and exotic delicacies.

A best surviving example of an ancient city, the spiritual and intellectual capital of Islam resting alongside ancient Jewish quarters. The Vibrant Jewish heritage in the Mellah, where artisan craft, antique Jewish goods, and handcrafted jewelry is sold. Visit the recently restored Ibn Danan synagogue ñ the oldest extant synagogue in Fez. Until very recently abandoned and decaying, its restoration was part of a comprehensive UNESCO project to preserve the monuments and fabric of medieval Fez.

Fez is the perfect place to practice your bargaining skills in buying souvenirs, brightly colored hand-loomed carpets, or fine crafted artisan goods. Visit the famous leather tanneries, a honeycomb of vats exploding in an array of brilliant colors. Then, climb to the venerated Merenid Tombs for a spectacular panoramic view of Fez.

Jewish Quarter * Synagogue * The ramparts of Fes * The gates of the Palace * The panoramic view of Fes * The pottery cooperative * Tanneries * Berber Carpet Demonstration * Dyers Market * Wood Museum / Najjarine * Museum Batha * Al-Qayrawan mosque * Medersa Bou Inania * Weavers Cooperative * Mausoleum of Moulay Idriss II * Antiquities' gallery * Medersa Cherratine

Lunch with the locals in the market Dinner at the ancient city on your own. Overnight & breakfast at your charming riad at the ancient city of Fez.
Meals Included: Breakfast.
A day drive through the countryside of Morocco including a special stop to feed some of Morocco monkeys at Azrou National park. Lunch in Midelt before you continue your drive to Erfoud. That is the last town where the civilization ends in that part of Morocco.

A Desert Expedition From here, we will start our Sahara expedition with a visit to the Sahraoui town of Erfoud including the Fossil museum/factory where they turn fossils into home decorative items. Follow is a 4×4 drive to visit a Fossil Mountain in the area and some of the nomad villages before your arrival at the edge of the dunes to enjoy the mystical Saharan landscape.

Explore the mystical Saharan landscape as you ride by camel over the stunning sugar-fine sands of Merzouga to catch the sunset on the dunes then back to our luxury Kasbah at the edge of the dunes for dinner and overnight stay. As the red sun sinks. As night falls, listen to the heady intoxicating beat of Berber drum music and song during the traditional pouring of mint tea., and delight in a Moroccan feast of harira soup, a savory tagine (stew with meat and vegetables) or couscous, etc…

Experience a sense of timelessness in the still, silent desert unchanged since caravans loaded with spices, gold and indigo crossed long ago.
Meals: Breakfast & Dinner.
Day 6: Edge of the Dunes – Erfoud Todra Gorges – Tinghir – Boumalne du Dades – Rose Valley – Ouarzazate
After a Saharaoui Berber breakfast, We will take another 4×4 transfer to Erfoud to pick up your vehicle and continue with your journey. You'll depart for Todra Gorges (you may want to have lunch there), traveling the rugged Road of a Thousand Kasbahs that rise up like turreted sand castles along this ancient caravan trading route. This area has long been a popular location for Hollywood films such as The Last Temptation of Christ, Jewel of the Nile, and most recently Hideous Kinky. The central region is one of the most exciting and romantic destinations of Morocco nestled along rich river valleys, palmeries, and burnished mud-brick homes ablaze in vibrant color under the shelter of the blue desert sky.

A special stop for an hour walks to visit the Jewish quarter in Tinghir including the Berber house if interested in some Saharaoui Souvenirs. You'll travel through the Dadès Valley past dramatic escarpments and plunging gorges and make a special stop to visit one of the Roe cooperative factories at the rose valley plus a coffee break before you continue your journey for a short drive to your charming hotel in Ouarzazate for some downtime. Dinner on your own at the kasbah or at downtown Ouarzazate. B&B at your charming Kasbah in the Ouarzazate area.
Meals: Breakfast.
Day 7: Ouarzazate – High Atlas Mountains / Ourika Valley
We continue our adventure along with the majestic beauty of the High Atlas Mountains, through the scenic route of Tizi n'Tichka's lush oasis valleys and mountainous areas highly popular with trekkers. You'll stop for a break at one of the Berber villages on your way to Ourika / High Atlas Mountains past a pageantry of fragrant, dense pine and cedar forests, terraced farms, and sienna mud-brick Berber villages to visit the Berber village of Anrar Visit the Berber village of Anrar and have a taste of the Berber lifestyle by having a cup of tea within a Berber family. Early evening cooking workshops to learn how to make Moroccan famous Moroccan Couscous for your dinner / Vegetarians are welcome!

Dinner and overnight at your Charming Kasbah Omar at the village of Anrar.
Meals: Breakfast & Dinner.
Day 8: Ourika Valley & Berber Villages
• A visit to the salt mining of the valley
• A visit to one of the aromatic garden
• You will explore some of the hidden Berber villages as well as some old Jewish ones.
• Visit one of the weekly ancient markets where all Berbers of the valley meet to trade and do their weekly shopping.

Afternoon, we will do a Henna workshop and do another & second cooking class to learn how to make Moroccan Tagine with beef, chicken, or lamb with mixed vegetables). Vegetarians are welcome! An evening to enjoy and hang out at the Kasbah. Dinner and overnight at Kasbah Omar.
Meals: Breakfast & Dinner
Day 9: A Full Day to Explore Marrakech (only 45 minutes away)
Explore Marrakech and the ancient Market etc… including the vibrant and historic Jewish mellah, where some of the finest jewelry is found in Morocco, and view the majestic Koutoubia Mosque before entry into the ancient Market to explore and to have a cup of tea with one of the local artisans to be as close to the culture as possible. The heartbeat of the night fills the old city's famed square, Djemaa el-Fna, where the delectable grilled fare is served in the bustling torch-lit open-air market. Mystical snake charmers, hustlers, and mischievous monkeys are part of the nightly drama unfolding as Berber acrobats, fortune tellers, musicians, and engaging storytellers seduce rapt crowds. Wend your way through the serpentine labyrinth of the spice-filled air of the bustling souk, unchanged for over 1000 years, where you'll discover the best of traditional Moroccan craftsmanship. Dinner at Jamaa Elfna square with the locals on your own (Fun and amazing experience). Overnight stay at your charming riad in the ancient city of Marrakech.
Meals: Breakfast.
Day 10: Marrakech
Transfer to Marrakech or Casablanca airport for your return home with plenty of tales of Arabian and Berber days and nights.
Meals: Breakfast

Note: If you would like to add an additional night in Marrakech or a day trip or 1 night or 2 at the charming city of Essaouira at end of the trip as a trip extension, please let us know!
Price based on 3* accommodation
US$2000 per person based on double occupancy
US$450 per person extra for a single occupancy

Price based on 3* & 4* accommodation Combo
US$2350 per person based on double occupancy
US$650 per person extra for a single occupancy

Price based on 4* & 5* accommodation Combo
US$2890 per person based on double occupancy
US$1050 per person extra for a single occupancy

What's Included:
• Charming Riad, Kasbah lodging
• Breakfast daily
• 5 dinners
• 4×4 in and out of Merzouga
• Camel Ride for sunset in the desert
• Overnight in desert
• Private Transportation, Gas, Tolls & English speaking guide according to the program
• Transfers from Casablanca and to Marrakech or Casablanca airport
• Museums fee
• All taxes

Not included in package price:
• Airfare
• Travel Insurance
• Drinks
• Lunches and 4 Dinners
• Tips

Contact us or
Call / WhatsApp our New York Office at 212-925-6151
Email: Journey@MoroccoVacation.net