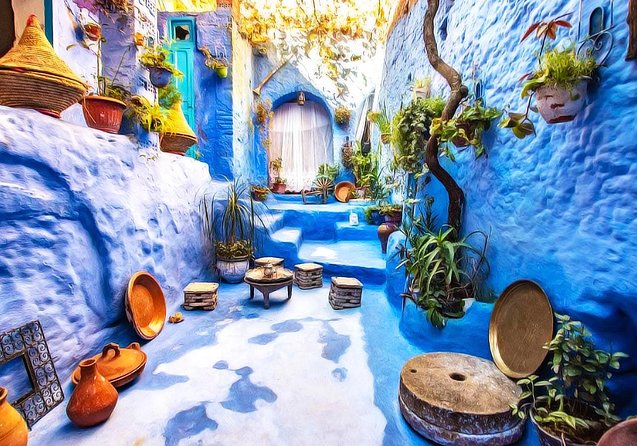 The Centers for Disease Control and Prevention (CDC) has issued a Level 1 Travel Health Notice for Morocco due to COVID-19, indicating a low level of COVID-19 in the country. For more information on COVID-19 in Morocco, please read below.
Following the Moroccan government's decision to allow Travelers to enter Morocco by air, a number of conditions must be met.
– Professionals coming from abroad must have a printed invitation on the letterhead of the inviting Moroccan company. This letter must be sealed by the company and signed by a manager with all the relevant information concerning the traveler included (passport number, dates of entry, the purpose of visit, accommodation details).
– For foreign nationals not subject to Visa, formalities to enter Morocco a confirmed hotel reservation in a classified hotel and tourist establishment (including Riad) must be presented at the airport.
– You would need to provide your Covid-19 (PCR) test, which must be less than 72 hours prior to shipment from the date of collection when entering Morocco. Children under 11 years of age are exempt. Leaving Morocco Covid-19 (PCR) test must be conducted no more than 3 days before entering the USA for air passengers two years of age or older.
– All passengers must complete a passenger health form online at http://www.onda.ma/form.php, then print and sign the form, to be presented on arrival in Morocco.
Best Way to Travel to Morocco During Covid
There are currently direct flights between Morocco and the United States on Royal Air Maroc (RAM) between Casablanca (CMN) and New York's John F. Kennedy International Airport (JFK), as well as Casablanca and Washington Dulles International Airport (IAD). There are also flights between Casablanca and Montreal, Canada, but there are no regular flights to/from Europe at this time.
***  Effective January 26, all airline passengers to the United States ages two years and older must provide a negative COVID-19 viral test taken within three calendar days of travel.  Alternatively, travelers to the United States may provide documentation from a licensed health care provider of having recovered from COVID-19 in the 90 days preceding travel
Country-Specific Information

The Government of Morocco has extended the country's "Health State of Emergency" until July 10, 2021.
If you are exhibiting signs or symptoms of COVID-19, or to find a testing site, please contact the Moroccan Ministry of Health's hotline at +212 (0)8-01-00-47-47. Assistance is available in English, French, or Arabic.

There is a nationwide curfew in place between the hours of 11:00 PM and 4:30 AM.  Effective June 7, individuals who are vaccinated and have a vaccine digital passport issued by the Moroccan Government (www.liqahcorona.ma) can move freely after 11:00 PM.  Such individuals will not be subject to travel restrictions.  Those not vaccinated and enrolled in the government's digital vaccination passport program must still have written permission from the Moroccan authorities for movements during curfew hours and to travel between cities/regions.

Commercial airline travel to/from Morocco and the United States is currently available.  Until June 15, all travelers entering Morocco must present negative test results from a PCR test carried out less than 72 hours before boarding (see information below for important changes beginning on June 15, 2021).  Children under the age of 11 are exempt from this requirement.

There are currently direct flights between Morocco and the United States on Royal Air Maroc (RAM) between Casablanca (CMN) and New York's John F. Kennedy International Airport (JFK), as well as Casablanca and Washington Dulles International Airport (IAD).  There are also flights between Casablanca and Montreal, Canada, but (until June 15) there are no regular flights to/from Europe.  The Consulate General is unable to make travel arrangements; U.S. citizens should book directly with the airlines.  Due to the Health state of Emergency, U.S. citizens seeking to fly from Morocco to a destination other than the United States are required to obtain exceptional authorization from local authorities.  Note that we do not know whether this will continue to be required after June 15.

The Government of Morocco has suspended all flights and passengers to/from the following countries until June 15, 2021 (see information below for important changes beginning on June 15):  Albania, Algeria, Argentina, Australia, Austria, Belgium, Bosnia and Herzegovina, Botswana, Brazil, Bulgaria, Cameroon, Croatia, Cyprus, the Czech Republic, the Democratic Republic of Congo, Denmark, Egypt, Estonia, France, Finland, Germany, Ghana, Greece, Guinea, Hungary, India, Ireland, Italy, Kuwait, Latvia, Lebanon, Libya, Lithuania, Luxembourg, Mali, Malta, Mozambique, The Netherlands, New Zealand, Norway, Poland, Portugal, Romania, Serbia, Slovakia, Slovenia, South Africa, Spain, Sweden, Switzerland, Tunisia, Turkey, Ukraine, and the United Kingdom.  Individuals (including U.S. citizens) coming from the above list of countries will not be permitted to enter Morocco, even if transiting a different country on the way to Morocco. Passengers entering Morocco from Bahrain, Qatar, and the United Arab Emirates must pass a medical check and a rapid COVID-19 test on arrival. In case of a positive test on arrival, passengers will be required to quarantine at a designated hospital.

Air travel to and from Morocco remains restricted to specific categories of travelers.  Citizens and residents of Morocco, as well as foreign nationals of visa-exempt countries (which includes U.S. citizens) with reservations with Moroccan hotels or travel agencies and businesspersons invited by Moroccan companies, can enter and depart (if traveling from a country, not on the above-suspended list).

For entry into Morocco, the Government of Morocco classifies countries into "List A" and "List B."  List A currently includes the United States and all countries not on List B, given below. Passengers arriving from countries on List A are permitted to enter Morocco with a negative result of a PCR test administered within 72 hours of the date entering Morocco or proof of COVID-19 vaccination.  (Note that even if you have proof of vaccination, it may be advisable to also take a PCR test to have available, if asked.) The Moroccan Ministry of Foreign Affairs updates the countries on List A and List B regularly and at least twice a month.  (For additional information about other foreign country entry requirements, review the COVID-19 webpage of the U.S. embassy located in that foreign country. For example, with questions about travel to France, see U.S. Embassy Paris' COVID-19 Information.)

Beginning June 15, 2021, travelers from countries on Morocco's List B counties must obtain an exceptional authorization from the Moroccan government before traveling (https://www.acces-maroc.ma/#/admissibilite_autorisation), present a negative PCR test administered within 48 hours of the date entering Morocco, then undergo a 10-day quarantine on arrival.  List B includes the following countries: Afghanistan, Algeria, Angola, Argentina, Bahrain, Bangladesh, Benin, Bolivia, Botswana, Brazil, Cambodia, Cameroon, Cape Verde, Central African Republic, Chad, Chile, Colombia, Congo, Cuba, Democratic Republic of Congo, Eswatini, Guatemala, Haiti, Honduras, India, Indonesia, Iran, Iraq, Jamaica, Kazakhstan, Kenya, Kuwait, Latvia, Lesotho, Liberia, Lithuania, Madagascar, Malaysia, Malawi, Maldives, Mali, Mauritius, Mexico, Namibia, Nepal, Nicaragua, Niger, North Korea, Oman, Pakistan, Panama, Paraguay, Peru, Qatar, Seychelles, Sierra Leone, Somalia, South Africa, South Sudan, Sri Lanka, Sudan, Syria, Tanzania, Thailand, Togo, Uganda, Ukraine, United Arab Emirates, Uruguay, Venezuela, Vietnam, Yemen, Zambia, and Zimbabwe.

Regular passenger ferries between Morocco and Europe are not currently in operation.
The borders with Ceuta and Melilla remain closed.

COVID-19 Testing

– Are PCR and/or antigen tests available for U.S. citizens in Morocco? Yes
– If so, are test results reliably available within 72 hours? Yes
– U.S. citizens can obtain a COVID-19 test at the labs listed below, which have been approved by the Moroccan Ministry of Health.  The cost for the test is typically around 700 Dirhams.
– Results can be provided electronically and are usually available within 24 hours.

Approved COVID-19 testing labs

– AGADIR: Laboratoire d'Analyses Médicales Mahfoud

– CASABLANCA:  Laboratoire d'Analyses Médicales Derb Sultan / Centre de Biologie Médicale GLab / Biolam / Laboratoire International d'Analyses Biomédicales / Laboratoire d'Analyses Médicales Annoual / Laboratoire d'Analyses LABOMAC / Hopital Cheikh Khalifa Ben Zayed

– EL JADIDA: Laboratoire Semlali d'Analyses Médicales et de Biologie de la Reproduction

– ESSAOUIRA: Laboratoire El Baroudi

– FES: Laboratoire Saiss d'Analyses Médicales / Centre Biologie Maroc / Laboratoire Guessous d'Analyses Médicales

– KENITRA: Laboratoire Maamora

– MARRAKECH: Laboratoire D'Analyses Médicales et Biologiques Al Massira / Laboratoire Dar Assalam d'Analyses Médicales / Laboratoire de Biologie Médicale Gueliz / Laboratoire AlManar / Laboratoire Dar El Baroud

– MEKNES: Laboratoire Chbicheb d'Analyses Médicales

– MOHAMMEDIA: Laboratoire Central Analyses Médicales Mohammedia

– NADOR: Laboratoire D'Analyses Médicales de Nador

– OUJDA: Laboratoire Oujda d'Analyses Médicales

– RABAT: Laboratoire d'Analyses Médicales et de Cytogénétique / Laboratoire International d'Analyses Médicales (Témara) / Laboratoire Ibnou Nafiss / Laboratoire PolyBio / Laboratoire Bioclinic / Laboratoire Claridge

– TANGIER: Laboratoire d'Analyses Médicales et de Bilogoie de Reproduction Riad Tétouan

– TÉTOUAN: Laboratoire Ibn Nafis d'Analyses Médicales Générales & Spécialisées Reproduction Humaine / Laboratoire Fassi-Fehri d'Analyses Médicales

– For information on limited humanitarian exemptions to CDC's requirement that all U.S. bound travelers present a negative COVID test, please review the following page:  https://travel.stagov/content/travel/en/traveladvisories/ea/covid-testing-required-us-entry.html.  Humanitarian exemptions to this order will be granted on an extremely limited basis and will only be considered when the country of departure lacks adequate COVID-19 testing capacity.  To submit information in support of an exemption, email ACSCasablanca@state.gov.

COVID-19 Vaccine Information:

– Has the government of Morocco approved a COVID-19 vaccine for use?  Yes

– Are vaccines available in Morocco for U.S. citizens to receive?  It depends.  U.S. citizens residing in Morocco with a valid carte Sejour are eligible to receive the COVID-19 vaccine locally.  U.S. citizens in Morocco as tourists, however, are not currently eligible to receive the vaccine locally.

– Which vaccines are available in Morocco?  AstraZeneca (UK), Sinopharm (China), and Sputnik V (Russia)

– For information on getting vaccinated in Morocco, please contact the COVID-19 Vaccination Hotline, "Allo Liqah," at 08-00-00-01-47 (French and Arabic) or visit their website at https://liqahcorona.ma/fr.

– Visit the FDA's website to learn more about FDA-approved vaccines in the United States.

– The U.S. government does not plan to provide COVID-19 vaccinations to private U.S. citizens overseas.  Please follow host country developments and guidelines for COVID-19 vaccination.

Entry and Exit Requirements

– Are U.S. citizens permitted to enter? It depends

– Air travel to and from Morocco remains restricted to specific categories of travelers. Citizens and residents of Morocco, U.S. citizens with reservations at Moroccan hotels, and business people invited by Moroccan companies are allowed to enter and depart. Special operation flights serving these passengers, including a direct flight on Royal Air Maroc between Casablanca (CMN) and New York's John F. Kennedy International Airport (JFK) and Washington Dulles Airport (IAD), will continue to operate under the Health State of Emergency. U.S. citizens wishing to return to the United States should book directly with the airline.
Is a negative COVID-19 test (PCR and/or serology) required for entry? Yes
The Government of Morocco (GOM) has established pre-arrival COVID-19 testing requirements for all travelers entering Morocco. Travelers entering Morocco must complete a PCR test within 72 hours of travel, with printed results to present on request at check-in and to GOM officials on arrival. Children under 11 years of age are exempt from this requirement.
U.S. citizens not resident in Morocco are typically permitted to remain in Morocco for only 90 days. If any traveler is questioning whether they have overstayed and might be subject to a fine, before they depart their city where they have been staying, they should visit the immigration officer at the main police station.  In the past, the fines have been less than 1,000 Moroccan dirhams and require a court appearance. The U.S. Consulate General does not play a role in determining who has overstayed nor can we extend anyone's stay in Morocco.
Travelers should check entry and exit requirements in place in the countries and states where they plan to travel.
Are health screening procedures in place at airports and other ports of entry? Yes
The Government of Morocco will conduct a health screening on travelers entering the country.

Movement Restrictions

– Is there a curfew in place?  Yes.  A nationwide curfew between the hours of 8:00 PM and 6:00 AM is in place until the end of Ramadan (around May 14).  During this time, restaurants, stores, supermarkets, and other businesses must close by 7:00 PM.  You must have written permission from the Moroccan authorities for movements during curfew hours.

– Are there restrictions on intercity or interstate travel? Yes

– U.S. citizens should be familiar with local requirements prior to travel between regions and should remember to follow the instructions of local authorities.

– Are there restrictions on intercity or interstate travel? Yes

– U.S. citizens should be familiar with local requirements prior to travel between regions and should remember to follow the instructions of local authorities.

Quarantine Information

– Are U.S. citizens required to quarantine? No

– The Government of Morocco is not imposing a mandatory quarantine on foreign citizens entering the country.

Transportation Options

– Are commercial flights operating? Some limited services.

– There are currently direct flights between Morocco and the United States on Royal Air Maroc (RAM) between Casablanca (CMN) and New York's John F. Kennedy International Airport (JFK), as well as Casablanca and Washington Dulles International Airport (IAD).  There are also flights between Casablanca and Montreal, Canada.  The Consulate General is unable to make travel arrangements; U.S. citizens should book directly with the airlines.  Authorities could put into place new flight restrictions with little notice.  It may be difficult to enter or leave Morocco and travelers should expect delays entering Morocco and/or returning to the United States.

– Is public transportation operating? Yes

– To travel between cities on public transportation, travelers must obtain authorization from the local authorities. Masks are required on all public transportation.

Fines for Non-Compliance

– You may be fined for non-compliance with measures to prevent the spread of COVID-19.

Consular Operations

– Emergency Services for U.S. Citizens:  In case of emergency involving a U.S. citizen in Morocco, please call 05-22-64-20-99 (dialing from Morocco) or +212-522-64-20-99 (dialing from outside Morocco) during regular business hours and 06-61-13-19-39 (dialing from Morocco) or +212-661-13-19-39 (dialing from outside Morocco) on evenings and weekends.  *Note: The American Citizen Services Unit is unable to respond to any questions pertaining to U.S. visas.

– U.S. Passport Services / Consular Reports of Birth Abroad:  To make an appointment for a U.S. passport renewal, please click here.  To schedule an appointment for a Consular Report of Birth Abroad, please click here.  If you are a U.S. citizen who needs an emergency passport for imminent travel, please send an email message to ACSCasablanca@state.gov.

– Notarial Services:  For a notarial services appointment, including the Affidavit of Nationality and Eligibility to Marry, please click here.

– COVID-19 Vaccination:  The United States Government does not plan to provide COVID-19 vaccinations to private U.S. citizens overseas.  Please follow host country developments and guidelines for COVID-19 vaccination.

– Immigrant Visa Appointments:  The Consulate General in Casablanca is currently processing immigrant visas (IV) in all categories, including diversity visas (DVs).  The suspension of visa services due to the COVID-19 pandemic has affected the Consulate General's immigrant visa wait times.  As immigrant visa operations resume under constraints based on local conditions and restrictions, the processing of immigrant visas for immediate relatives and other family-sponsored applicants, as well as fiancée visas, is our highest priority.  Scheduling for these appointments is conducted by the National Visa Center (IVs) and the Kentucky Consular Center (DVs).  For any visa-related questions, please contact our Visa Support Center: 05-20-48-50-13 (in Morocco); 1-703-520-2245 (from the U.S.); support-morocco@ustraveldocs.com.

– Nonimmigrant Visa Appointments: The Consulate General is not currently conducting routine B1/B2 visa interviews; the Consulate plans to resume routine B1/B2 processing on June 1, 2021.  The Consulate is currently processing student visas and other types of (non-B1/B2) nonimmigrant visas. To schedule a nonimmigrant visa appointment, please click here. If you have an urgent need to travel due to a medical or another emergency, you may request an emergency appointment for a B1/B2 visa.

B1/B2 Renewals without an Appointment: NIV applicants may qualify to renew a B1/B2 visa without an interview. This option may be available to persons who meet the following requirements: Your visa is either unexpired or expired less than 48 months ago; You are applying for another visa of the same type as your previous visa, and; You were not refused a visa at your last interview.  For additional information, please see the Applying for a Visa Renewal webpage.

New Passports: Please note that your visa may still be valid even if the passport it is in has expired.  You can travel to the United States with your old passport containing a valid visa and your new, valid passport.

U.S. Visa Questions: For any U.S. visa-related questions, please contact our Visa Support Center: 05-20-48-50-13 (in Morocco); 1-703-520-2245 (from the U.S.); support-morocco@ustraveldocs.com. The American Citizen Services Unit is unable to answer questions about U.S. visa applications.

– U.S. Lawful Permanent Residents (LPRs) are free to travel outside the United States and temporary or brief travel usually does not affect their permanent resident status. Residents who return to the United States within a year are generally considered to be in status. LPRs that have been outside of the United States for more than a year (365 days) will need to apply for a returning resident visa (SB-1). There are no special exceptions as a result of the COVID-19 pandemic. For additional information regarding your lawful permanent resident status, contact U.S. Citizenship and Immigration Services (USCIS) at uscis.gov or by calling +1-212-620-3418 (from overseas).
Powered by: Where to Travel during Covid